Here at Swopz Shop Bristol, we are massive fans of upcycling, as a way of giving old stuff a new life, saving money, and keeping materials out of landfill for as long as possible! Now that a lot of us will be stuck at home for the foreseeable future, there has never been a better time to get creative with some upcycling projects. Not only is this great for the environment, and a cheap way of making useful household items, it can also be great for your mental health, and a good way to spend a rainy day.
For this week's blog post, we have curated a list of inexpensive upcycling projects of varying difficulties/lengths for anyone to get their teeth into, but specifically thinking of ways you could spice up your room as a student. We will be using all kinds of materials from plastic bags, onion bags, jars, cans, corks, CDs, and old t-shirts, so stay tuned for some upcycling inspiration & tips to get you started.
Before you begin…
Before you launch into any of these projects, we recommend getting hold of a few basic materials so that you are prepared for all upcycling eventualities and can order everything in one batch to avoid any trips to the shops! These are:
A good pair of scissors
A glue gun and glue sticks

While glue guns are primarily made of plastic, as are the glue gun sticks they use, glue gun glue is not the worst kind of glue for the environment. Most glue guns use EVO, which is non-solvent based, meaning it will not contribute to soil, air and water pollution. If you are interested in reading more about eco-friendly glues, this article sets out some of the key issues and things to look out for. 
In terms of cost, you can find glue guns from as little as £5 from Hobbycraft, so this is a worthwhile investment if you are planning to do a lot of upcycling!

Fabrics – some of these projects will require extra fabric. If you are able to source this from old clothes, ideal! If not, you can often find fabric offcuts in a variety of places, for example on websites like Etsy, Gumtree and Ebay.
Sewing needle and thread
Grout (more specifically for mosaic projects!) – you can find this in Hobbycraft's online shop, but also anywhere like Homebase, ScrewFix or Wickes. 
Onion bag soap holder
https://www.instructables.com/How-to-Make-a-Soap-Holder-out-of-a-Bag-of-Onions/
This is probably one of the simplest upcycling projects on this list. All you need is an (empty) onion bag, some scissors, and a bar of soap! The resulting soap bag works as a gentle exfoliant, as well as allowing the soap to dry more effectively, making it last longer.
Jar Picture Frames
https://www.rikkihibbert.co.za/2010/07/16/recycle-reuse-repurpose-glass-jar-photo-frames/
If you are looking for an interesting way to display photos in your room, this project is for you. Simply gather together some old jars, wash and dry them thoroughly, and display your favourite photos! If you don't have any jars, why not try using old CD cases, and upcycling these as photo frames – you can even attach a magnetic strip to the back and turn them into fridge magnets. Depending on your room aesthetic, you can also try displaying photos using an old tennis ball – simply cut a slit in it, weigh it down with a few pennies inside, and slot your photo in!
Recycled T-Shirts
https://www.deliacreates.com/greeneasy-knit-produce-bag/
You will find lots of ideas online about how to reuse old t-shirts – from pillows, to cleaning rags, to quilts and skirts, t-shirts are one of the most popular items of clothing for beginner upcyclers. We love this step-by-step guide from Delia Creates, which shows you how to make simple produce bags from old t-shirts. These are great if you are trying to avoid plastic packaging when shopping, and can also be easily washed. If you don't fancy sewing, she has made an updated 'no-sew' version here, complete with a video tutorial!
Can Pencil Holders
https://grillo-designs.com/diy-tin-can-pencil-holder/
Any leftover tins, pots and boxes can be kept and transformed into handy containers, so hold onto as many containers as you can, and we promise you will find a use for them! There are lots of ways you can get creative with leftover cans as pencil-holders – if you don't mind keeping the original packaging, you can use it straight away, or if you prefer to personalise it a little, check out this simple tutorial.
Wine Cork Noticeboard
https://www.instructables.com/DIY-Cork-Board-recycle-and-upcycle/
This project may take a little time to prepare for, as first you will need to amass a fair number of corks… Once you have collected them, the rest is fairly simple, and will provide you with a practical & unique cork board to display photos, reminders and notes!
CD Coasters
If you used your CD cases for the photo displaying project above, we have some ideas for ways you can repurpose your CDs too. First up is this tutorial which uses colourful fabrics to create unique sets of CD coasters. These would be perfect to give away as sets for unique gifts for friends and family, so are a perfect project to start over lockdown! If you have a LOT of CDs, you could also use them to make a unique desk lamp, or for a slightly more substantial project, you can cut them into smaller shards and use them to make some amazing mosaic projects, including mirrors and bowls.
Denim Hanging Organiser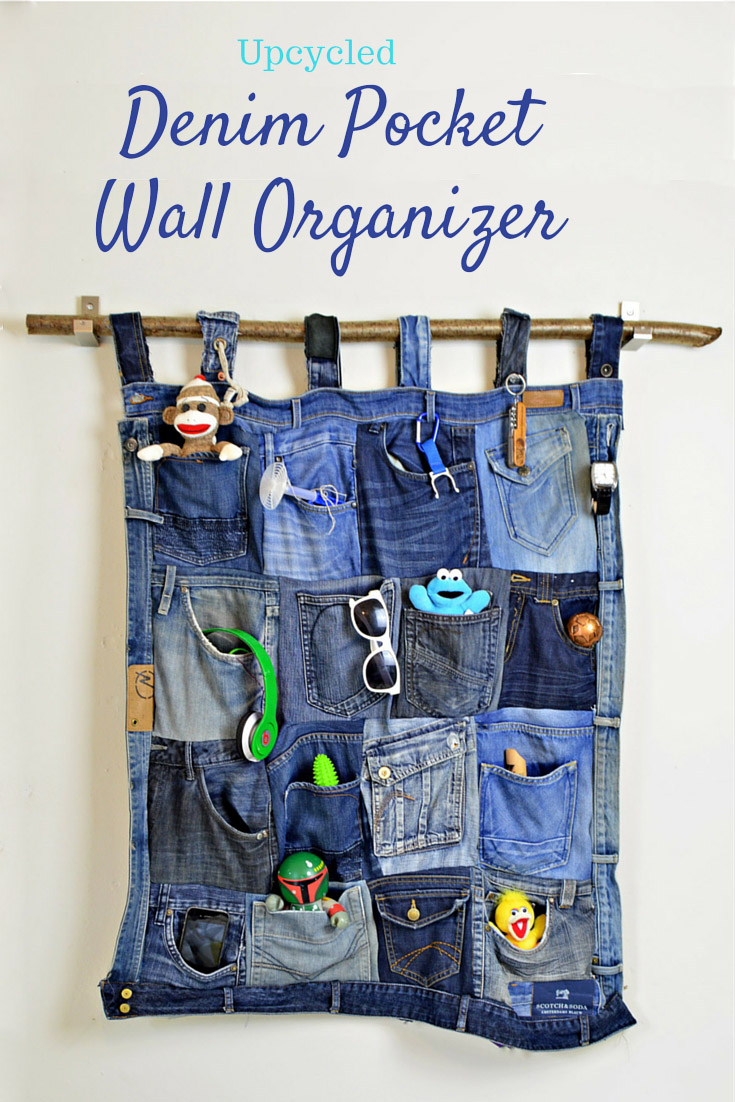 https://www.pillarboxblue.com/tutorial-for-a-great-denim-pocket-organiser/
As with t-shirts, you will find hundreds of ideas online for how to recycle and repurpose old denim. It takes around 1500 gallons of water to grow the amount of cotton required for a single pair of jeans, so it's important to make sure that you give every pair of jeans as long a life span as you possibly can! If you are struggling with what to do with pocket scraps of jeans that are left over from other upcycling projects, this hanging organiser is a brilliant way of using them, and is a very handy piece to have hanging in your room. Like the cork board project, this one will take a little longer to prepare for, as you will need to collect the pocket scraps over a period of time, but you can also create the pockets yourself out of ordinary denim if you want to make it straight away from a single pair of jeans.
Jam Jar Herb Garden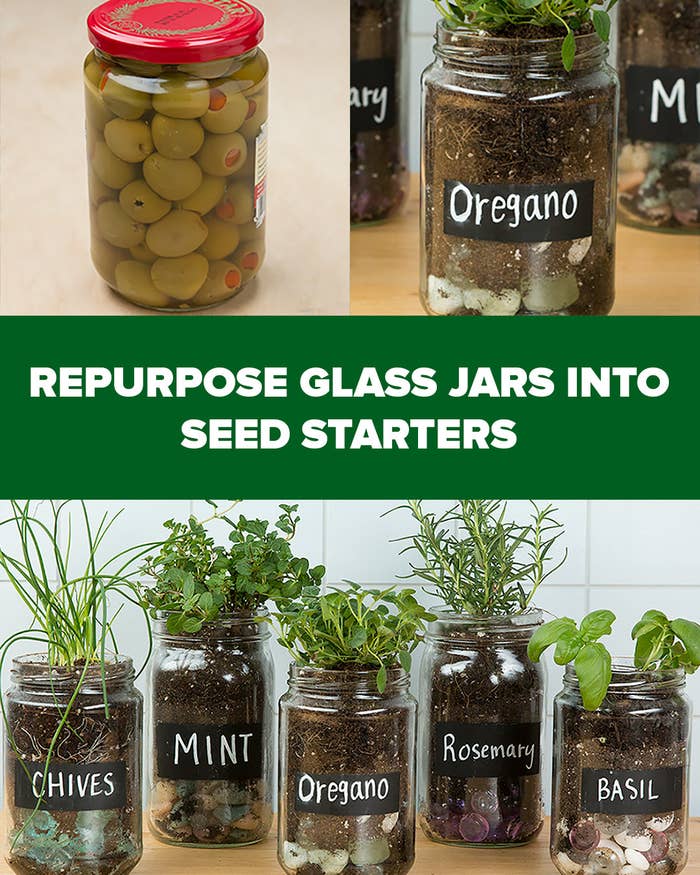 https://www.buzzfeed.com/mercedessandoval/you-can-repurpose-glass-jars-into-these-adorable-seed
This is a great project to brighten up your kitchen, but is also a much more cost effective way to get herbs for cooking, and avoids the extra plastic waste that often comes with bags of fresh herbs.
We hope you have enjoyed this list of upcycling suggestions! If you are looking for your next upcycling project, check out Swopzshop.com to find items to upcycle.
Tag us if you try any of these projects, or if you have any more suggestions or ideas for lockdown upcycling projects. If you are interested in finding more content like this, make sure you follow us on Instagram and Facebook to receive weekly updates as well as upcycling and recycling tips!